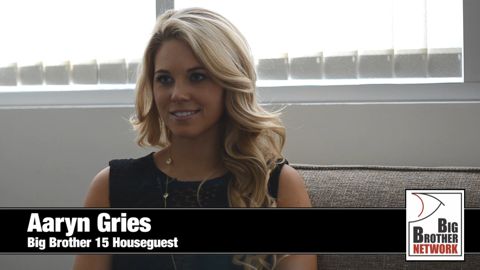 Aaryn Gries
Age: 22
Hometown: San Angelo, Texas
Living: San Marcos, Texas
Occupation: College Student
Marital Status: Single
Aaryn Gries – Big Brother 15 interview:
Aaryn Gries is one of several HGs this season from Texas as well as having been raised on a ranch. After moving around the country and living in Colorado for a few years she's back in Texas as a student at Texas State University studying psychology.
Aaryn considers herself casual fan turned hardcore fan now that she's about to enter the house, so let's consider her a casual fan who applied because Big Brother looked like "the most fun ever!"
As what trait is going to help her get ahead on Big Brother 15, Aaryn says she can "read people very well" from reading a lot of psychology books in her spare time "like a nerd."
Aaryn says she won't throw any competitions and will try to win as many as she can.
If it came down to make tough sacrifices to save an ally she'd be willing to burn her clothes, bathe in chum, and eat slop for weeks, but she wouldn't shave her head or give up her spot in future competitions.
When it comes down to facing the jury in a Final Two scenario she hopes to win them over with competitive victories instead of emotional connections.
Watch Aaryn Gries's interview with Big Brother Network below to hear the rest of what she had to say including why you should root for her on Big Brother 15.
click thumbnails to see full-size images